Ringside Cup 2021
Ringside Cup 2021
Ringside Cup-viikkokilpailut 2021! Seuran viikkokilpailut, Ringside Cup, pelataan koko kauden kestävänä sarjana toukokuusta syyskuun alkuun. Sarja koostuu 16 viikoittaisesta osakilpailusta sekä kauden päättävästä Grande Finalesta. Senioreiden viikkokilpailut yhdistetään Ringside Cup-viikkokilpailusarjaan. Seniorit osallistuvat yleisiin PB- ja HCP naiset-sarjoihin, lisäksi senioreille on erikseen miesten SCR-sarja (kelt) ja miesten HCP-sarja (sin). Alla pelattavat sarjat ja tiit: Sarjat ja tiit PB YSI - naiset pun, miehet kelt PB 18R - naiset pun, miehet kelt HCP naiset - naiset pun HCP miehet - miehet kelt SCR miehet - miehet valk SCR naiset - naiset sin SCR edustus - naiset sin, miehet valk Senior SCR miehet - miehet kelt Senior HCP miehet - miehet sin Pelipäivät Kilpailukierroksen voi pelata minä päivänä tahansa maanantaista klo 00:00 sunnuntaihin klo 23:59 asti. Pisteytys Pisteytys viikoittaisissa osakilpailuissa 10, 8, 7, 6, 5, 4, 3, 2, 1 pistettä.Grande Finalessa kaksinkertaiset pisteet. Lopullisessa Order of Merit - taulukossa huomioidaan 10 parasta tulosta per pelaaja. Viikoittaiset sijoitukset ja pisteet ovat nähtävillä seuraavana maanantaina kotisivujen kilpailukalenterissa (Gamebook). Erikoiskilpailut Erikoiskilpailut Ringside Cupin ohessa pelataan kaksi koko kauden kestävää erikoiskilpailua. Tradehit Challenge Tradehit Challengessa kerätään bogey-pisteitä väylä kerrallaan kaikissa Ringside Cupin osakilpailuissa. Ensimmäisessä osakilpailussa huomioidaan tulos väylältä yksi, seuraavalla viikolla tulos väylältä kaksi ja niin edelleen. Cupin viimeisessä osakilpailussa Grande Finalessa huomioidaan kahden viimeisen väylän tulokset (17 ja 18) ja voittaja on se, joka saa kerättyä eniten pisteitä 18 väylältä. Eclectic Eclectic on tasoitukseton kilpailu jossa pelaaja merkkaa kauden aikana pelatuissa Ringside Cupin osakilpailuissa parhaan lyöntituloksensa kultakin väylältä. Tradehit Challenge- ja Eclectic-kilpailuun voi osallistua vain yhden ennalta ilmoitetun sarjan tuloksilla, erikoiskilpailujen tulokset merkataan itse kilpailutauluille viikoittain. Osallistuminen, kisamaksut ja palkinnot Osallistumisoikeus Ringside Cupiin on Espoo Ringside Golf ERG ry:n jäsenillä. Ringside Cup:iin osallistutaan ilmoittautumalla mukaan peliin Gamebookissa tai caddiemasterille ennen kierroksen aloittamista. Eri sarjoihin osallistutaan aina eri kierroksilla ja erikseen ilmoittautumalla. Kahta, kolmea tai useampaa sarjaa pelaava ilmoittaa ennen ensimmäistä kilpailua caddiemasterille, minkä sarjan tuloksilla hän osallistuu erikoiskilpailuihun koko kauden aikana. Kilpailun tulokset syötetään Gamebookiin. Päätöskilpailu Grande Finalessa voi osallistua vain yhteen sarjaan ja osallistumisoikeuden saa pelattuaan vähintään kuusi osakilpailua kauden aikana. Ringside Cup- sarjaan voi osallistua maksamalla joko yksittäisen osakilpailun maksun tai kausikortin koko kaudelle. Yhteen sarjaan osallistuvalta kausikortti maksaa 50 €, kahta tai useampaa sarjaa pelaavalta 75 €. Yksittäisen osakilpailun hinta kaikissa sarjoissa on 5 €. Ringside Cupissa palkitaan viikkosarjojen voittajat sekä kokonaiskilpailujen ja erikoiskilpailujen parhaat Golfbalancen lahjakorteilla kauden päätöskisan Grande Finalen yhteydessä. Tervetuloa mukaan!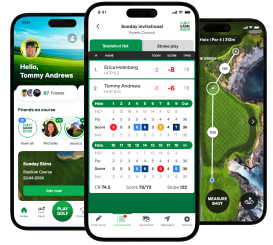 Golf GameBook Live Scoring
This golf tournament uses digital scoring provided by Golf GameBook. If you haven't done so already, please download the free app and register a profile. This allows you to join the tournament, score your round and enjoy many other great features we have built in to make your game more enjoyable. Read more about Golf GameBook.