BMW GOLF CUP, AUTOKESKUS INVITATIONAL
Vanajanlinna Golf & CC | 24.8.2021
Sign up
Sign Up to the tournament from here. You can also cancel or edit your Sign Up from the same place.
Entries open 4.5.2021 21:00 and close 22.8.2021 20:59
Cancellations before 23.8.2021 20:59
Start times
Leaderboard
Contests
Results
BMW GOLF CUP, AUTOKESKUS INVITATIONAL
Vanajanlinna Golf & CC
  |  

Linna Golf

  |  

Par 72
24.8.2021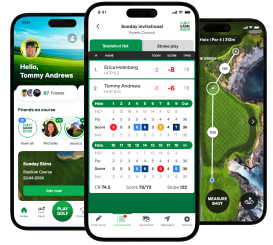 Golf GameBook Live Scoring
This golf tournament uses digital scoring provided by Golf GameBook. If you haven't done so already, please download the free app and register a profile. This allows you to join the tournament, score your round and enjoy many other great features we have built in to make your game more enjoyable. Read more about Golf GameBook.